Romeo's
A casual dining restaurant specializing in pizza and pasta, Romeo's provides a fun and relaxed dining experience.  Romeo's was on the back of all box office printed tickets for the 2013 season, offering fans discounts on dine in and take out orders at any of their five Victoria locations. The great news is that Romeo's will again be offering their pizza at Royal Athletic Park, a treat for all HarbourCats fans.
Hannah Equipment and Maintenance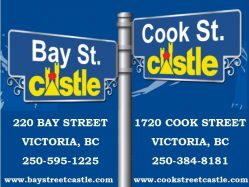 Castle Building Centres
Galaxy Motors
Our coaches made their way to and from the park in style thanks to Galaxy Motors' donation of the 'CatMobile for the summers of 2013-2015 and will again in 2016. Look for the 'CatMobile around town!
Hotel Rialto
Hotel Rialto is a small boutique style property located in the heart of beautiful downtown Victoria.  The hotel is located in one of Victoria's most cherished heritage buildings originally built in 1911. The entire property has been fully renovated to a high standard welcoming guests with Italian fresco walls and richly adorned with hardwood and marble.
Mike Geric Construction
Since 1968 Mike Geric Construction has been committed to supporting and growing our communities as we've evolved into a thriving development company with projects throughout Greater Victoria.
We're proud to live in this community, to be part of the success of so many educational and community initiatives and to support our Victoria Harbourcats!
For more information on Mike Geric Construction please visit www.GericConstruction.ca
Ted Balderson
Alex Burns
As reliable as Rivera out of the bullpen, Alex Burns and Associates is a premiere choice in the Victoria real estate community and proud sponsor of the 2016 HarbourCats. Look for their big sign in left field and if a home run ball by the home team hits that sign, a lucky fan will win a prize!