News
HarbourCats to Host Annual Christmas "Come and Go" on December 10th and 12th
By Chris November 18, 2020 02:17pm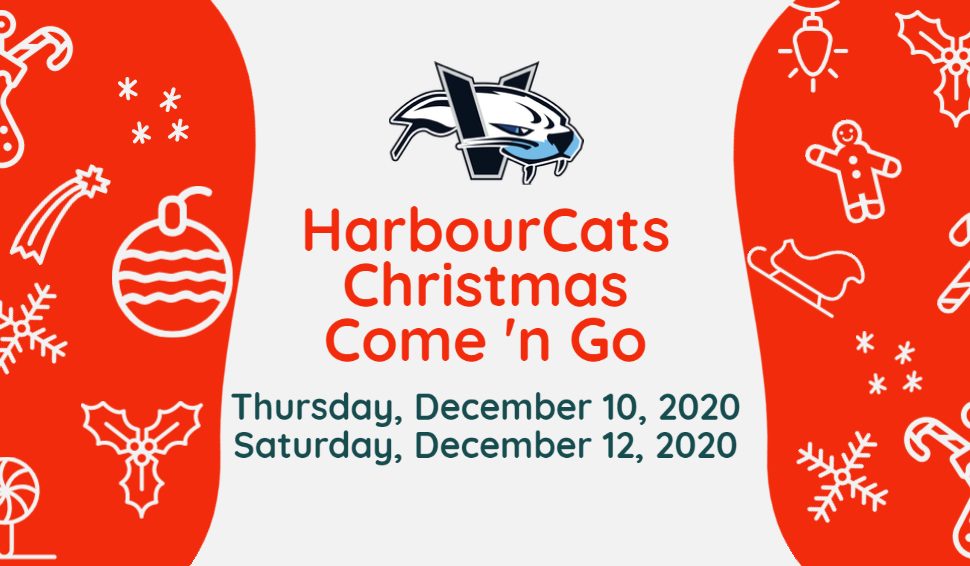 (Note: This event was originally scheduled for November 26th had to be changed due to recent COVID-19 health protocols).
Annual event to look a little different in 2020, with COVID-19 protocols in place.
VICTORIA, BC – It is a time to be festive and to celebrate the holidays, briefly putting the chaos of the past year behind us.
The Victoria HarbourCats would like to invite all members of the community to come to our annual Christmas "Come and Go" on Thursday, December 10th from 9:00am to 8:00pm and Saturday, December 12th from 10:00am to 5:00pm at the offices at 101-1814 Vancouver Street.
Fans will have the opportunity to get a peek at our 2021 schedule, purchase Christmas Gifts and stocking stuffers – ticket packs, merchandise, gift cards, accessories, even Season Tickets – and say hello, all in a socially distanced and safe environment.
Mask-wearing will be required, and health guidelines will be followed.
Unlike past "Open House" events, where fans were encouraged to come hang out, enjoy some food and hot apple cider, this year's event will have a little different feel to it.  "The term 'Come and Go' is on purpose," notes HarbourCats Managing Partner Jim Swanson.  "We want fans to pop in to see us, get their Christmas shopping all taken care of and then clear the area so other people can pop by and do the same."
At the "Come and Go", the HarbourCats will have tents set up in the office parking lot for the display of some merchandise and for creating a safe space to distance-mingle.  Only one group of people will be allowed in the actual office at one time.  The traditional buffet of Christmas cookies, treats and the like will not be available, but staff may be safely serving cider or hot chocolate to those who would like it.
To encourage Christmas shopping for those who have baseball fans on their list, the HarbourCats will have a number of Christmas specials available at the event, or on the on-line store at https://victoria-harbourcats-official.myshopify.com/. This will include:
$99.00 GIFT PACK
Six General Admission Ticket Vouchers,  1 HarbourCats Baseball Cap, 1 each of a HarbourCats Key Chain, Luggage tag and car air freshener. (Add an Alex DeGoti Bobblehead for $9.99)
12 for 10-Pack Ticket Vouchers
One of our most popular items in 2019. Enjoy 12 ticket vouchers for the price of 10. General Admission, Right Field Reserved, Premium Reserved and Grandstand.
Season Ticket Voucher Equivalents
Can't commit to coming to every single HarbourCats game? Consider a "voucher equivalent" Season Ticket. Instead of a fixed ticket for every game, we give you 35 ticket vouchers that you can use in any combination you like…10 tickets each at three games and five at another,  two tickets for 16 games and three at another, or just give out vouchers as stocking stuffers to friends and family.  Available in all sections except Campbell Club and Diamond Club.
HarbourCats Christmas Kids Camps
Need something for the kids to do over Christmas break?  How about a kids development camp at our new indoor training facility with Assistant Coach and Head of Player Development  Curtis Pelletier! Two-hour slots are available by age groups (Ages 11 and under – 9:30AM to 11:30AM; Ages 12 and up – 12PM to 2PM) on Dec. 20, Dec. 23 and Dec. 28. Cost is $40.00 per session or book all three for $100.00. Call the office at 778-265-0327 to book, or e-mail chris@harbourcats.com.
For folks that would prefer to shop from the comfort of home, please feel free to visit The Cat Shop on-line at https://victoria-harbourcats-official.myshopify.com/  and enjoy 10%  off the purchase of any item from now through December 20, 2020 by using the promo code XMAS2020.
For details on all these items call the office at 778-265-0327, or drop in anytime 10AM to 5PM Monday to Friday.  Otherwise, we will see you at the event on December 10th!
What to Read Next