New Era Cap
The New Era Cap Company is the world-wide leader in headwear and is the official cap supplier of the Victoria HarbourCats.
Tesseract
Specializing in new as well as refurbished desktop and laptop computers, Tesseract Computers is proud to sponsor the 2016 Victoria HarbourCats and be the official IT company of the HarbourCats. 
The Local
With great food and friendly service, The Local provides a welcoming atmosphere in downtown Victoria and is proud to be apart of the HarbourCats season.
Hannah Equipment and Maintenance
Bottle Depot
The Bottle Depot is locally owned and operated and is proud that their depots are having a profoundly positive impact on landfill sites. They're also a proud sponsor of the Victoria HarbourCats.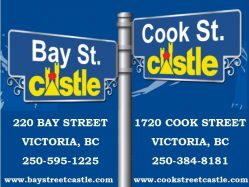 Castle Building Centres